Христос Воскрес! Воістину Воскрес! 
Christ is Risen! Indeed He is Risen!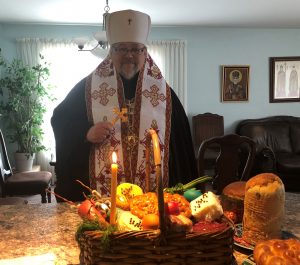 His Eminence Metropolitan Yurij greets everyone on the most-joyous Feast of Feasts – Pascha – Velykden' – Easter!
Please see below the written text of Vladyka Mytropolit's video greeting, originally recorded for KONTAKT TV on April 10th for broadcast on Pascha. This video (in Ukrainian,) is posted on our uocc web-site.
We are especially grateful to Darcia Rutkay-Moskaluk who took the initiative, and to Halyna Kravchenko, secretary at St. Demetrius parish in Toronto, who transposed from video and translated into English, along with Oksana Balaban, chair of the parish council and Fr. Walter Makarenko, parish priest, for all of your service and assistance in getting the video recording into text (and in both Ukrainian and English languages.) Schyro dyakuyemo, ta bazhayemo Mnohykh Lit!
z namy Boh! God is with us!
(Fr.) Taras Udod,
Chancellor, UOCC