Христос Воскрес! Christ is Risen!
On the occasion of the Feast-day of St. George the Great-Martyr – День Св. Великомученика Юрія, May 6, their Graces, Bishops Ilarion and Andriy, all the clergy and faithful of the Ukrainian Orthodox Church of Canada, greet you Vladyka Mytropolit Yurij on your Names Day.
May God grant you many blessed years!
We further express our condolences on the blessed falling asleep in the Lord of your mother, +Anastazia, whose funeral service was celebrated on Wed May 6, 2020.
We are also pleased to share the Patriarchal Greetings sent to His Eminence from His All Holiness, Patriarch Bartholomew on this occasion.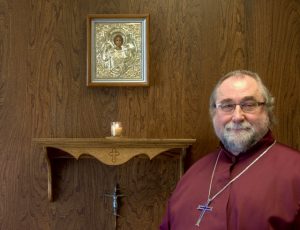 Pictured – Fr. Taras by the historic icon of St. George in the office of the Chair of the Presidium.