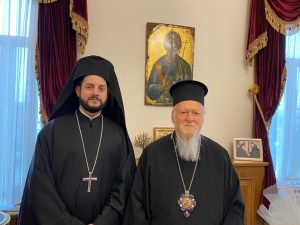 Slava Bohu! Glory be to God!
To: the hierarchy, clergy and families, and all parish leaders, members, supporters and friends of our UOCC
The following is the message of congratulations that Our Primate, His Eminence Metropolitan Yurij sent to (then) Fr. Deacon Iakovos on the eve of his ordination to the Holy Priesthood.
Слава Ісусу Христу!
Dear Deacon Iakovos,
It is a great pleasure for me to congratulate you with your ordination into the rank of priest tomorrow in the Church of St. George from the hands of His All Holiness, Patriarch Bartholomew. The acceptance of the Chrism of the Holy Spirit is a great responsibility and an intimate act and experience as I'm sure, that you are contemplating in these hours before the Mystery.
Many in Ukraine and Canada, the first among them, your parents are following this event with great pride (in the good sense of that word) and are supporting you  in your journey. Please know, that you are not forgotten. May God bless you as you take this very important step in your spiritual life. Please, extend my greetings to His All Holiness and assure him of our prayers for him.
With love in Christ and Hierarchical blessings,
+YURIJ, Metropolitan
The ordination took place on Wednesday morning, February 24th, 2021. Fr. Iakovos is the son of Fr. Taras and Dobr. Donna Krochak of Lethbridge, AB. Fr. Iakovos was born Andriy Krochak, in Saskatoon and raised in Calgary, active in all facets of the life of the parish of St. Vladimir's in Calgary, before leaving to further his education, at first in Toronto, and then on to Europe.
It gives us great joy to see Fr. Iakovos, a son of the UOCC, continue to grow in his service to God and His Holy Church in the Patriarchate of Constantinople!
AXIOS! AXIOS! AXIOS!
 For the Presidium of the Consistory Board,
(Fr.) Taras Udod,
Chair, and Chancellor, UOCC