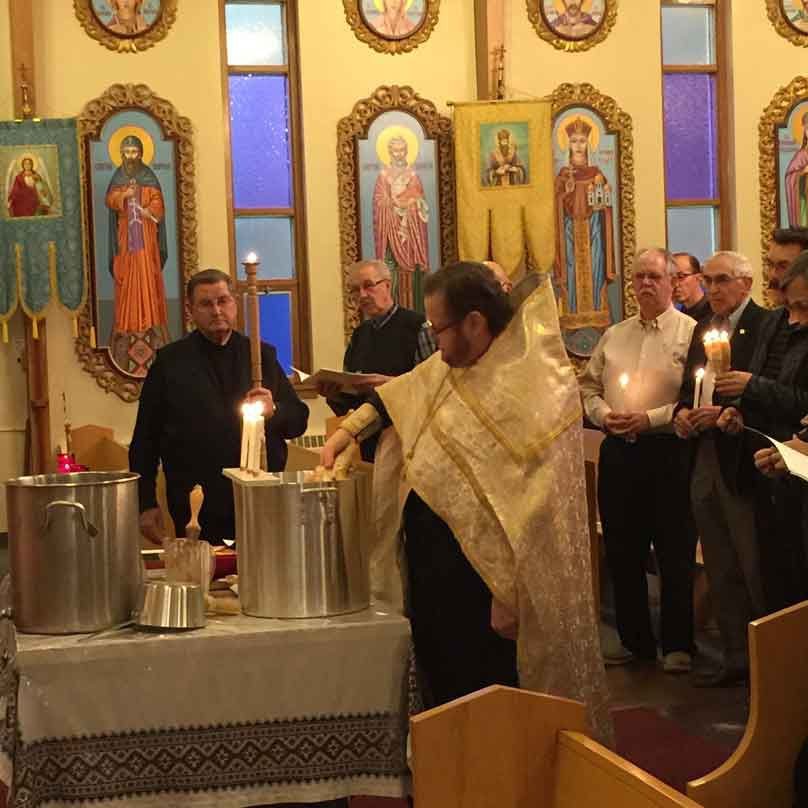 Justified, Reconciled, Saved (UA/EN/FR)
28-го червня 1998. Третя Неділя по П'ятдесятниці
1. Слово Боже: Римлян 5:1-10; Матвія 6:22-33.
2. Роздумування про Слово Боже: ВИПРАВДАНІ, ПРИМИРЕНІ, СПАСЕНІ!
Сьогоднішній Апостол чудово та впевнено говорить про справи, які дуже корисні для нас, котрі намагаємося наслідувати Господа Ісуса Христа в цій "долині сліз", як часами називають цей світ, в якому ми прожвиваємо.
Пригадувати, що наше Хрещення та наша віра (яку ми приймаємо особисто) пов'язують нас з Ісусом дає нам можливість приймати, що без огляду на нашу слабосильність та недосконалість, ми все ж таки сприйняті Богом. Святий Апостол Павло каже, що ми "виправдані вірою". Цебто, вживаючи юридичні поняття, кару заслужену нами через наші гріхи, вже повністю прийняв замість нас Господь Ісус, що помер на Хресті за наші гріхи. Нас зараховано за праведників – не через наші заслуги, бо ж ми ніколи не могли б здобути доволі їх, щоб задовільнити вимоги Божих досконалих законів, але через наше єднання з Господом вірою.
Але не вистачає просто залишити справу при цьому. Ми не виправдані тільки для того,щоб далі порушувати Божі закони. Ми виправдані для того, щоб ми могли почати жити свободою Божих дітей. Ми примирені з Богом. Він – наш Батько, наш Друг, Той, що любить нас безмежно! Нам можливо чинити добрі діла, почати жити та розуміти Божі вічні тайни.
Святий Апостол Павло запевняє нас, що ми тепер спасаємося життям Господа Ісуса, якого Він проживає у нас, тому що ми виправдані та примирені з Богом, Отцем Всемогучим, смертю Його.
Не вагаймося приймати це нове життя таки сьогодні. Звернімо свої очі на Ісуса. Приймімо Його, як Провідника нашого життя. Наша надія на Нього ніколи не засоромить нас. Ми знайдемо, що любов Божа вилилася в наших серцях Духом Святим, даного нам.
Протоієрей Д-р Ігор Юрій Куташ, Душпастир
June 28, 1998. Third Sunday after Pentecost
1. God's Word: Romans 5:1-10; Matthew 6:22-33.
2. Meditation on God's Word: JUSTIFIED, RECONCILED, SAVED!
Today's Epistle speaks with eloquence and confidence about matters which are very useful for us who follow Jesus in this "vale of tears", as this world in which we live is sometimes called.
To recall that our Baptism and our faith (which we accept personally) link us with Jesus makes it possible for us to accept that, no matter what how weak and imperfect we may be, we are acceptable to God. Saint Paul says that we are "justified by faith". That is to say, using legal terms, that the punishment which we have deserved as a result of our sins has already been accepted in full by Jesus, Who died upon the Cross for our sins. We are considered to be just – not because of our own merits (we would never be able to get enough of them to satisfy the demands of God's perfect laws), but because of our union with Jesus by faith.
But it is not sufficient to leave the matter at that. We are not justified just so that we can keep on transgressing God's laws. We are justified so that we might begin to live in the freedom of God's children. We are reconciled with God. He is our Father, our Friend, the One Who loves us infinitely! It is possible for us to do good works, to start to live and understand God's eternal mysteries.
Saint Paul assures us that we are in the process of being saved by Jesus' life, which He lives in us now that we have been justified and reconciled with God, the Father Almighty by Jesus' death.
Let us not hesitate to claim this new life today. Let us turn our eyes towards Jesus. Let us accept Him as our Guide and the Director of our life. Our hope in Him will never disappoint us. We shall find the love of God poured into our hearts by the Holy Spirit which has been given to us.
The Very Rev'd Dr. Ihor George Kutash, Pastor
le 28 juin 1998. Troisième dimanche après la Pentecôte
1. La Parole de Dieu: Romains 5,1-10; Matthieu 6,22-33.
2. Méditation sur la Parole de Dieu: JUSTIFIÉS, RÉCONCILIÉS, SAUVÉS!
L'Épître d'aujourd'hui parle avec éloquence et confiance des choses qui sont très utiles pour nous qui tentons de suivre Jésus dans cette "vallée des larmes", comme on dit parfois de ce monde que nous habitons.
Se souvenir que notre Baptême et notre foi que nous acceptons personnellement nous lient avec Lui nous donne la possibilité d'accepter, que malgré nos faiblesses et nos imperfections, nous sommes acceptés par Dieu. Saint Paul dit que nous sommes "justifiés par la foi". C'est-à-dire, en utilisant les termes légaux, que la punition que nous méritons par nos péchés a été déjà acceptée en total par Jésus, Qui est mort sur la Croix pour nous. Nous sommes considérés justes – non pas à cause de nos mérites (nous n'en aurions jamais assez pour satisfaire les exigences de la loi parfaite de Dieu), mais à cause de notre union avec Jésus par la foi.
Mais ce n'est pas suffisant de rester là. Nous ne sommes pas justifiés pour continuer de briser les lois de Dieu. Nous sommes justifiés pour que nous puissions commencer à vivre dans la liberté des enfants de Dieu! Nous sommes réconciliés avec Dieu. Il est notre Père, notre Ami, Celui Qui nous aime infiniment! Il nous est possible de faire des bonnes oeuvres, de commencer à vivre et comprendre les mystères éternels de Dieu.
Saint Paul nous assure que nous sommes en train d'être sauvés par la vie de Jésus qu'Il vit en nous, vu que nous avons étés justifiés et réconciliés avec Dieu le Père Tout-puissant par la mort de Jésus.
N'hésitons pas à réclamer cette nouvelle vie aujourd'hui. Tournons nos yeux vers Jésus. Acceptons-Le comme notre Guide et Directeur de notre vie. Notre espérance en Lui ne nous trompera jamais. Nous allons trouver l'amour de Dieu répandu dans nos coeurs par l'Esprit Saint Qui nous a été donné.
Ihor Georges Kutash, Archiprêtre et Curé