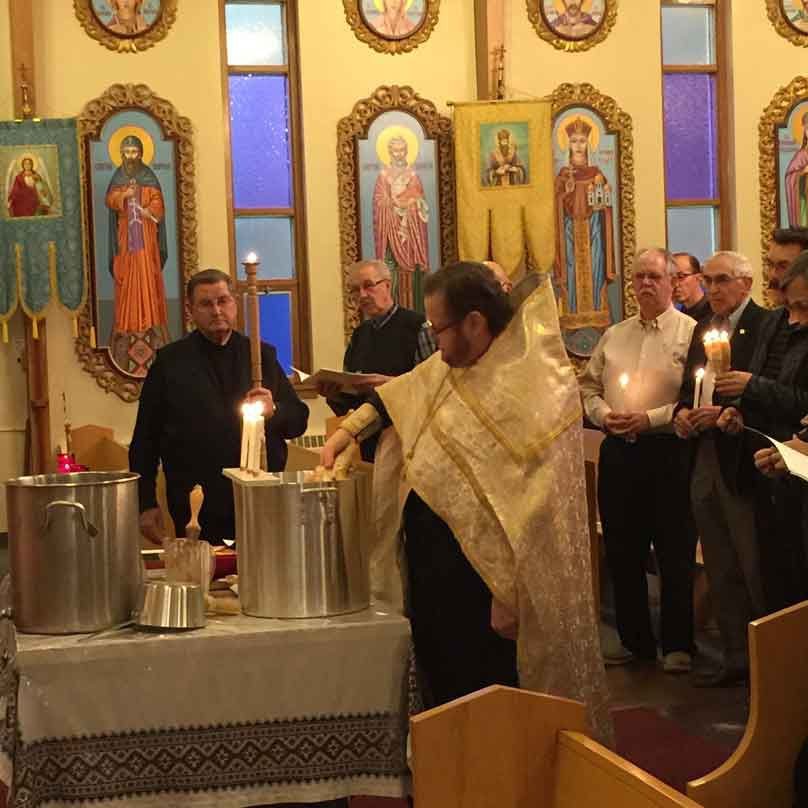 Communal House Blessings
By Vicki Jones
Vicki Jones is president of the Holy Trinity Parish Council, and serves on the OCA Department of Christian Education.
Reprinted from The Orthodox Church in America www.oca.org
The center of worship for a family is often the home, perhaps the holiest place there is. The home is where you gather with family to eat, to raise a family, to read the word of God. Jesus said, "If anyone loves Me, he will keep My word; and My Father will love him, and We will come to him and make Our home with him" (John 14: 23). After Theophany, the home also becomes a center of celebration during the annual house blessings. This service is not only a time for a family to gather and renew the home as a holy site; it can also become an opportunity for the parish community to rejoice in the Lord together. Borne of necessity last year, the house blessings for the families of Holy Trinity Orthodox Church in Overland Park, Kansas, became real occasions of celebration in our new experience of communal house blessings.
Since the time between Theophany and the beginning of Great Lent last year was extremely brief, our pastor, Fr. Timothy Sawchak, came up with a solution to demands on his limited time. Holy Trinity is a widespread parish with mostly working families who wish to have their houses blessed in the evening; therefore, practicality forced this innovation, which allows Fr. Tim to bless up to four houses in one night and still have dinner! Precedence for this innovation was in Fr. Tim's former assignment where each year a family would invite a different family from the parish to share the house blessing and dinner. Fr. Tim suggested that four families in close geographic proximity join together. He had one central family organize the evening and the logistics, and then give him the itinerary, since it is difficult to organize this type of event one person at a time. On a designated schedule, Fr. Tim blessed the first three houses and then all four of the families gathered at the final destination. There, a large group was present for the house blessing and also for the potluck dinner immediately following.
This has proven to be a very successful opportunity for networking and meeting new families. This also provides an opportunity to sit down together at the table in homes we may never have visited before. We started relatively small last year, with about seven groupings, but because of the popularity of this program, we anticipate that this year more families will want to become part of the shared house blessings. There may be different groupings of families, or at least a different dinner host.
After the house blessing, the families feast together in an informal manner, which is a wonderful time to learn more about each other. Several new aspects of old, familiar friends in the parish family emerged. One group learned that they enjoyed similar television programs, while another discovered a shared passion for antiques. According to Carol Moore, one of the participants in this event, "To see someone's home is to see who they really are, on their own turf." Certainly, relationships were strengthened last year and new friendships forged.
There may be disadvantages to this type of program, but according to Fr. Tim, "I don't see any pitfalls." In the Midwest, one inevitable pitfall may be scheduling around bad weather. It is wise to group two to four families in one evening, and to organize by geographic areas, to alleviate Fr. Tim's driving time. It is also important to communicate that this is not mandatory, but an opportunity for fellowship. As Fr. Tim pointed out, shared house blessings "elevate the whole notion of blessing a home." This is a good way to build community, and as Jay Moore, a fellow parishioner, said, "One wants to share blessings."